Can a Car Crash Cause Tinnitus?
10-03-19
Tinnitus, originating from the Latin word 'tinnire' ('to ring'), is a perception of sound in proximity to the head with the absence of an external source. It is usually described as buzzing, ringing, roaring, whistling or hissing. Tinnitus may be intermittent, pulsing or continuous, and is at best annoying, but more often is quite distressing. It is estimated that approximately 15–20% of the world population suffer from tinnitus. For about 25% of those affected, the condition interferes with daily activity, with 1–3% of cases severely affecting quality of life. Severe tinnitus is frequently associated with depression, anxiety and insomnia.
There are many causes of tinnitus, it commonly occurs as a result of head or neck trauma. In fact, 17% of all cases of tinnitus are associated with heal or neck injury.[1]
In a study at a tinnitus clinic, 297 out of 2400 patients reported that their tinnitus started within two weeks of a head or neck injury. The vast majority of these patients reported that tinnitus began immediately after or within 24 hours of their injury. 72% of the patients were male and 56% of the injuries occurred as a result of motor vehicle accidents.[2] The trauma patients also had significantly higher Tinnitus Severity Index scores.[3] Compared with other tinnitus patients at the clinic, trauma patients reported more problems sleeping, relaxing, concentrating, thinking clearly, and remembering things.[4]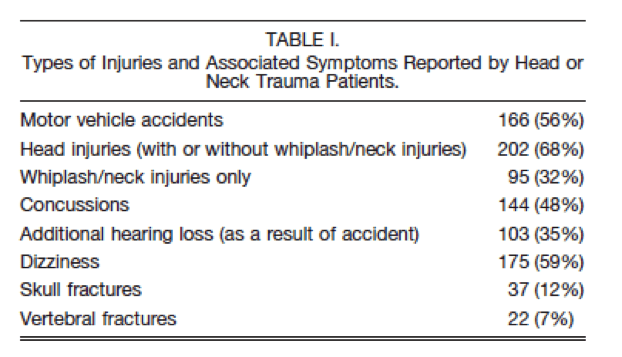 In the study, almost all of the trauma patients experienced rapid, sometimes immediate, tinnitus onset by contrast with non-trauma patients.[5] The trauma patients in the study had experienced tinnitus, on average for 2.3 years before presenting to the clinic as opposed to non-trauma patients who, on average, experienced tinnitus for 6.9 years before presenting to the clinic.[6] The reason for this is that tinnitus of shorter duration (sudden onset) is often more severe than tinnitus that has been present for a longer time. Tinnitus in non-trauma patients is gradual onset allowing them to develop coping skills and strategies to improve sleep patterns and stress management.[7]
Tinnitus is associated with marked irritability, agitation, stress, depression, insomnia and interference with daily life.[8] There is no approved drug in the market that provides replicable, long term reduction of tinnitus impact in excess of placebo effects.[9] Current treatment strategy is aimed at controlling underlying disorders and suppressing the perception of tinnitus with the primary goal to improve quality of life rather than absolute cure. Unfortunately, there is no regimen that has shown complete efficacy.[10]
[1] Atik, Alp; Pathology and Treatment of Tinnitus: An Elsusive Disease; Indian J Otolayrngol Head Neck Surg (January 2014) 66(Supp 1): S1-S5; Attached hereto.
[2] Id.
[3] Id.
[4] Id,
[5] Id.
[6] Id.
[7] Id.
[8] Atik at S2.
[9] Id.
[10] Id.