Can You Rely Solely on your Car's Blind Spot Monitor? Not So Fast
05-08-19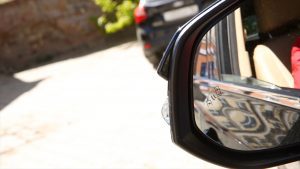 Along Interstate 71 northbound just last month, a lighted highway sign announced that the number of Ohio motorcycle traffic deaths last year was 141. It is common knowledge that lots of collisions resulting in injury and/or death to motorcyclists are related to an automobile driver's failure to see or notice the motorcycle. That is why the "Look Out for Motorcycles" campaign is so important. But surely the introduction of newer, more sophisticated technology is making that problem ancient history, right?
Not necessarily.
While it is true that many newer model vehicles come equipped with advanced driver assistance systems (ADAS) such as blind-spot monitoring and alerts on side mirrors that could help a driver to see a motorcycle approaching, automobile drivers and motorcyclists alike may not realize the limitations of such systems. Blind spot monitoring technology uses sonar, lidar, or cameras to detect vehicles that are alongside or behind the driver's automobile, even if that approaching vehicle may not appear in a side-view mirror. If an approaching or obstructing vehicle is detected, a warning light, a buzzer, or sometimes even a steering-wheel vibration is activated, depending on the make and model of the car. While these features improve the chances that a driver will avoid a collision, they are not perfect.
A recent study by the AAA Foundation for Traffic Safety found that 80% of drivers did not know the limitations of the technology or incorrectly believed that the technology could reliably detect cyclists. In reality, many blind-spot detection systems do not reliably detect cyclists. Even more alarming, 25% of drivers using blind-spot detection systems rely solely on these systems instead of performing visual checks for approaching traffic.
Automobile drivers with blind-spot monitoring technology must continue to perform visual checks to ensure the safety of the motorcycle riders who share the roadways. And motorcyclists must continue to be on guard by not lingering in a car's blind spot and by preparing to drive defensively if a driver makes an improper lane change because of failure to spot the motorcycle.
Advances in technology create tools that can certainly improve safety for all motorists, but only when everyone understands these tools and how to use them properly.