Columbus Electric Scooter Accident Lawyers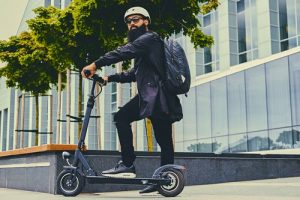 If you live in or near Columbus, you've probably seen the newly installed electric scooters for rent. Two competing companies, Bird and Lime (owned by Uber), expanded to central Ohio in mid-July introducing motorized scooters to Ohio State's campus and several Columbus neighborhoods, including downtown.
Bird Rides has an app that allows customers to locate and rent the scooters for $1.00 plus 15 cents per minute. Lime will use the Uber app to locate and rent its scooters. The scooters are picked up by company employees and charged at night. They are not meant to be used after sunset.
Proponents tout the scooters as the next logical step in the transportation revolution; they are environmentally friendly and make it easy to zip around the city or campus. Opponents complain that the scooters are an annoying fad among hipsters and tourists who weave in and out of traffic, putting themselves and others at risk.
One thing is certain, accidents will happen.
The Laws Regarding Motorized Scooters
Bird has been operating in 22 other cities prior to introducing the scooters in Columbus, and they keep expanding. State and local legislatures are racing to catch up with the unique challenges presented by this booming trend.
Bird requires that its riders solely operate the scooters (no passengers), be a minimum of 18 years of age, have competence in operating a scooter, not have any impediments like additional cargo or backpacks making it more difficult to ride, pay attention while riding (avoid cell phone usage, headphones, etc.), and be sober while riding. Both Bird and Lime recommend, but do not require, usage of a helmet.
In Ohio, there is no statewide law governing electric scooters. For now, there are no licensing, permitting, or helmet requirements, and they can be operated both on the streets and the sidewalks. Scooter users bear only the responsibility to act reasonably and within the confines of the law. But each city or township will make its own determination governing the operation of the scooters. Bexley and Upper Arlington have already pulled the scooters from streets and sidewalks, citing safety issues.
Types of Accidents Involving Electric Scooters
In cities where the scooters have been in use, there have been many scooter-related accidents from riders hit by cars to pedestrians injured dodging a scooter on the sidewalk. Some of the most common accidents include:
Pedestrians tripping over parked scooters: Scooter users often leave the scooters lying around on pathways and sidewalks. When left carelessly discarded, the scooter presents a tripping hazard.
Automobile or truck drivers hitting riders: The scooters travel at a speed of only 15 mph, making it extremely dangerous to ride one on the roadways with cars and trucks traveling at much higher rates of speed. In addition, the scooters are quite small and even less visible than motorcycles or bicycles.
Riders striking a pedestrian on the sidewalk: To date, the scooters are permitted on sidewalks and other pathways presenting the opposite problem of being on the roadway. At speeds of up to 15 mph, scooter riders are traveling much faster than a pedestrian, causing crashes and injuries.
Scooter defects: Scooters have been known to malfunction and suddenly stop working, causing rider ejection or falls. Also, if a rider brakes hard, the front wheel can lock up, throwing the rider off the scooter.
Children riding the electric scooters and people riding tandem
Road hazards: Scooter riders may crash by hitting or swerving around potholes, road debris, gravel or uneven surfaces. Scooter riders may also crash trying to avoid pedestrians, dogs, other scooter riders or cars. Sometimes scooter riders crash after being chased by unleashed dogs.
Riding recklessly, while impaired, or intoxicated.
Who is Responsible in the case of an Accident?
The source of compensation will depend on the situation and who was at fault. In many cases, there is no liability insurance to cover the losses. Ohio law requires vehicle drivers to have liability insurance, but there is no such requirement for electric scooter riders.
Car or truck at fault: If a car or truck isn't being careful and hits a scooter rider, the vehicle driver's automobile insurance will pay.
Rider at fault: If a rider negligently hits a pedestrian, he or she is legally accountable for the injuries caused. If the scooter rider has homeowner's or renter's insurance, their policy may cover the claim. If there is no insurance, the rider is personally liable for the harms and losses.
Scooter company at fault: In the case of malfunctions, the company may be responsible for the injuries.
Pedestrian at fault: Similar to the rider at fault above, homeowner's/renter's insurance may apply, or the pedestrian is personally responsible.
Business at fault: If a business improperly leaves gravel or debris on the roadway, or improperly places construction signage or material, the business's insurance may pay for the injuries.
Dog owner at fault: Like the rider and pedestrian fault above, homeowner's/renter's insurance may pay, or the dog owner is personally liable.
City at fault: If a pothole or other road defect causes a scooter rider to be injured or killed, the city may be responsible subject to the laws of governmental immunity.
If you have sustained injury because of a Bird or Lime scooter, you may be able to receive various forms of compensation for your injuries. Contact the personal injury attorneys at Rinehardt Injury Attorneys for a free, no obligation consultation. It is important to reach out to an attorney as soon as possible so that crucial documentation and evidence necessary to prove your claim may be secured. Call 419-529-2020, or fill out an online contact form to get started.
Electric Scooter Accident Attorneys In Columbus, Oh
Rinehardt Injury Attorneys is the answer to your personal injury. Our team of attorneys and case managers have represented clients in in Columbus and throughout central and north central Ohio for years. We treat every new client as if they were part of our family by providing clear communication, building a strong relationship, and using our experience to provide legal guidance that's in their best interests. We offer free consultations with no obligation, so don't hesitate to contact our team about your legal matter.