CHILD INJURY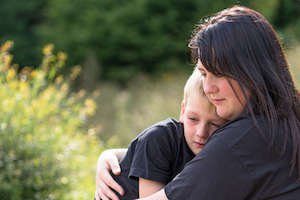 As a parent, there is not a worse feeling than knowing that your child is injured due to third-party negligence. All of the attorneys at Rinehardt Injury Attorneys are parents themselves, and work hard to hold individuals and corporations responsible for any harm that they inflict on your children.
Children have a right to safe, healthy, and happy childhoods and the adults around these children have a responsibility to ensure each child's wellbeing. Unfortunately, it is easy for a defenseless child to fall victim to negligence, recklessness, or downright malice of others. When preventable injuries hurt our precious children, it is only right that we fight for justice. Whether your child has been hurt because of a car or playground accident, a toxic toy, medical malpractice, or negligent childcare, you have a right to hold the responsible party accountable, and the personal injury attorneys here at Rinehardt Injury Attorneys will work hard to obtain you and your child the compensation you deserve.
Child injuries are a global public health problem. According to the World Health Organization (WHO), over 630,000 children under the age of 15 are killed by injuries each year, globally, and an estimated 9,000 of these deaths happen in the United States to children under the age of 19. Injuries are the leading cause of death for children, and for every injured child who dies, there are several thousand children who live with varying degrees of disability due to injury.
The Center for Disease Control and Prevention (CDC) reports that the leading causes of child injury include: motor vehicle crashes, suffocation, drowning, poisoning, fires, and falls. Child injury is often preventable, yet is among the most under-recognized public health problem facing our country today.
Often, when a minor is involved in an injury case, the claims are divided into two parts. The first part is the claim that belongs fully to the minor's legal guardians to cover things such as medical bills; the parents (guardians) may sue for the recovery of the medical expense of their child because legally, a parent is responsible for maintaining the health of their child while the child is under the age of 18. If a child is injured due to someone else's negligence and needs medical treatment, the claim for those medical bills belongs to the parent or guardian of the minor child. This can also legally cover the attorney's fees and case expenses.
The second part of the claim includes personal damages to the child, such as pain and suffering, physical impairment, mental anguish, disfigurement, etc. However, because a child cannot bring a lawsuit individually, the parent or guardian can act as the personal representative of the child and bring those claims on the child's behalf. If there is a settlement, the funds are divided—one portion is allocated for the medical and case expenses and the remainder is allocated for the child. However, Ohio courts protect that money for the child in ways such as a trust account maintained by the court until the child turns 18, which then allows the money to be released to the child.
Rinehardt Injury Attorneys represents children and their families throughout the Mansfield and Columbus areas. The attorneys at Rinehardt Injury Attorneys are always mindful of an accident's immediate impact—both physically and emotionally—on a child, as well as any future consequences that a child may have to face due to injury. In our role as third-party advocates for injured children, we spend time to decipher exactly what happened in cases where children may not be able to articulate the details of their injury. After using these details to reconstruct the accident, we seek out any additional evidence to prove the responsible party's liability, working to obtain rightful compensation for your child.
Child Injury Attorneys In Columbus, Ohio
Rinehardt Injury Attorneys is the answer to your personal injury. Our team of attorneys and case managers have represented clients in in Columbus and throughout central and north central Ohio for years. We treat every new client as if they were part of our family by providing clear communication, building a strong relationship, and using our experience to provide legal guidance that's in their best interests. We offer free consultations with no obligation, so don't hesitate to contact our team about your legal matter.