Ohio Motorcycle Accident Attorneys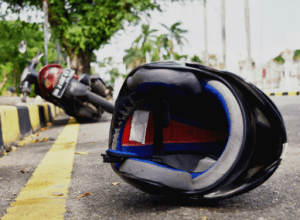 We don't believe at-fault drivers didn't see motorcyclists on the road – we believe they failed to see them. While these may seem the same, there is a distinct difference: drivers who fail to see motorcyclists do not look for motorcyclists on the road. This small difference leads to hundreds of motorcycle accidents per year, many involving even the safest of motorcycle drivers.
When a negligent driver fails to share the road or yield the right of way to a motorcyclist, serious injury can result. These injuries can mean a victim is unable to work while facing steep medical bills, surgeries, and long recovery times.
Protecting the Rights of Motorcycle Accident Injury Victims
If you or a loved one was involved in a motorcycle accident, call our team of experienced personal injury attorneys in Ohio. At Rinehardt Injury Attorneys, we know how to secure the recovery you need to compensate your medical expenses, lost wages, inability to perform your usual activities, and pain and suffering from catastrophic injuries caused by at-fault drivers, including:
Traumatic brain injuries (TBI), which can permanently affect the driver's motor skills, coordination, memory, and more.
Spinal cord injuries and paralysis, affecting mobility and coordination and sometimes affecting many body parts at once.
Internal organ damage, which often results in long, expensive hospital stays as doctors work to repair the injured organs.
Limb amputation, which can completely alter the driver's life in many ways and accrue large amounts of debt in hospital bills.
In Ohio, the law does not require motorcycle riders to wear a helmet, and many motorcycle drivers choose not to. If you were injured in a motorcycle accident and you were not wearing a helmet, we can help you pursue financial compensation for your losses.
Proud supporters of Motorcycle Safety Awareness Month, we have a team of experienced and respected personal injury attorneys who are ready to hold accountable those responsible for your injuries and suffering. Our motorcycle accident lawyers serve Columbus and communities across central and north central Ohio, and we use our personal injury experience to pursue compensation for your suffering.
With an average of 158 motorcycle fatalities each year in Ohio, accidents involving much smaller motorcycles can be deadly. There are several things you can do after an accident, if you are able, including:
Check for injuries to other motorists if you're able to move. If you cannot feel legs, arms or lower extremities, remain where you are. If this happened in a remote area, and you're unable to move, yell and scream until you're heard.
Should you have mobility, call law enforcement through 911. An ambulance and fire truck will be dispatched by default in accidents.
Snap pictures, take videos and make audio recordings of your accident. Anything you can document can help back your claim when it's time to seek compensation. If a commercial driver caused this accident, make sure to note the vehicle's plate number or DOT number.
Once medics have arrived, you will either be cared for while the police take photos and mark off the area or carted off if you need immediate care at the hospital. If you're well enough to talk with law enforcement, they'll take your police report.
After you've been released by law enforcement, talk with witnesses who may have been within eyesight and saw the events unfold. Make sure to exchange information for later use.
Phone a motorcycle accident lawyer. Don't delay this step. The faster your attorney starts working on your case, the quicker you'll get that bike fixed and get your health back so you can return to normalcy.
Call the insurance company and report your accident. They'll take your information and assign your claim a number. Volunteer no additional information, even if coerced. Keep your reporting simple and concise, then end the call.
While your attorney is sorting through the mess, continue to receive medical care and keep receipts of any expenses related to your injury, including physical therapy, over-the-counter pain relief, wheelchair rentals and anything needed to help you recover.
Finally, never flee an accident; you'll be seen as partially negligent and may face criminal charges.
Your attorney will get copies of the police report, the insurance adjuster's report, and will recreate the scene of the accident to determine accuracy. Your attorney will also extract photos from your phone and cameras on the street. With evidence in tow, your case will be negotiated or filed in the appropriate Ohio court.
Motorcyclists should always retain counsel in accidents that involve another vehicle, even if they knew the person. Here are the reasons why others in your position have turned to an experienced lawyer to help with their accident claim:
Attorneys know insurance law, Ohio laws, civil court procedures and how to deal with it all. Negotiation is second nature to most lawyers, which is essentially what motorcycle accident claims boil down to.
Victims are easily lured by insurers. Out of work, many motorcyclists will have immediate needs, which an adjuster's initial offer will cover. But a lowball settlement check often only covers a few weeks' worth of groceries, some medication, and maybe a few medical bills. What about the motorcycle? Your pain and suffering? Insurers don't care, but your attorney will.
Attorneys won't leave money sitting on the table. Any possible avenue of getting compensation for their clients is explored and will be reiterated as much as needed until the insurer breaks.
Most victims are in no physical or mental condition to prepare for trial, let alone state their case in front of jurors.
With so much riding on your claim, trusting professional litigation services offered by attorneys is comparatively better than facing the negligent party who has no interest in your health or financial well-being.
Although compensation is likely, one should never approach an accident with the mindset it's guaranteed. So many variables will go into your accident claim, including:
All losses sustained by the injured motorcycle rider, including wages now and in the future.
Bills that accompany the accident, including medical bills, specialists, over-the-counter medications, prescriptions with out-of-pocket costs, dental care, and others.
Repair estimate to restore motorcycle to its pre-accident condition, or an estimate of replacement costs.
Pain and suffering or emotional damage as documented by family, friends or psychiatrist. Noneconomic damages require testimony and substantial proof.
Personal property damaged, including expensive electronics in the victim's saddlebags, high-value jewelry or watches, heirlooms and similar items.
If paralyzed, loss of consortium may apply especially if there's enough evidence the relationship with a spouse was close, and the father or mother had a deep relationship with children that may be damaged due to injuries.
Once all figures are combined into one final number, your attorney will approach the insurer's counsel with that total. If they believe it's fair and equitable, an agreement will be forged. If not, additional back and forth talks will resume unless the insurer acts defiantly toward continuing discussions.
Motorcycle accident claims must be filed within two (2) years in Ohio; accidents leading to death have two (2) years from the date of death OR when that death was known to result from the accident. This statute is firm; delays must be with good cause, otherwise, the claim may be denied before it starts.
If a Driver Failed to See You, Call Us
You deserve fair representation after a motorcycle accident, and our firm sees to it that you receive it. Dedicated to Ohio's many motorcyclists, we make sure every case is handled with care, thoroughly investigated and negotiated for as much as you've lost, and beyond. It's not enough the driver is "sorry"; your financial losses can affect your lifestyle and your ability to support your family. With our firm, you'll have a fighting chance to win your claim.
You can contact us online or by calling us at (419) 529-2020. We are available to speak with you about your case, free of obligation or fee. Our personal injury clients owe us no attorney fees until we secure compensation for their losses. No matter how small or big your accident was, you deserve fair representation from attorneys who are looking out for your best interests. Let our team at the Rinehardt Injury Attorneys help you win your case.
Motorcycle Accident Attorneys In Columbus, Ohio
Rinehardt Injury Attorneys is the answer to your personal injury. Our team of attorneys and case managers have represented clients in in Columbus and throughout central and north central Ohio for years. We treat every new client as if they were part of our family by providing clear communication, building a strong relationship, and using our experience to provide legal guidance that's in their best interests. We offer free consultations with no obligation, so don't hesitate to contact our team about your legal matter.