Pedestrian Accident Lawyers in Ohio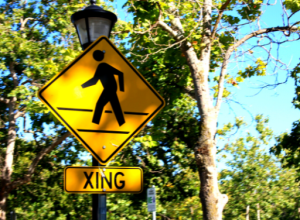 Were you hurt in an accident as a pedestrian? If so, the Ohio pedestrian accident lawyers of Rinehardt Injury Attorneys can help you get the justice you deserve. Don't let the reckless actions of a motorist harm your future. We're here to stand up for you and get you the fair compensation that you deserve.
While there are safety precautions pedestrians can take to protect themselves, the relative exposure and lack of protection for pedestrians mean that these accidents tend to be extremely severe for the victim. The Centers for Disease Control reports that there were 129,000 pedestrians treated for injuries in emergency rooms in 2015, with an additional 5,376 pedestrians killed. On average, a pedestrian is killed every 1.6 hours in a crash-related accident.
Pedestrian accidents can be extremely serious. Being hit by a car can lead to severe injuries, from broken bones to internal bleeding to permanent disability and disfigurement. If you or a loved one has experienced any of these outcomes as a result of a pedestrian accident, we strongly urge you to contact a knowledgeable member of our team today. Schedule a free consultation today by calling us at (419) 529-2020, chatting with us live, or filling out a contact form on our site.
Do I need an Ohio Personal Injury lawyer?
The law can be extremely confusing, especially if you are simultaneously suffering pain from injuries and dealing with financial distress after your pedestrian accident. Let an experienced Ohio pedestrian accident attorney at Rinehardt Injury Attorneys take care of everything for you. We have helped injured people just like you across the state of Ohio get the compensation they are owed after a serious injury accident, and we are standing by to do the same for you.
Taking on insurers and other parties in court can be difficult. There are procedures one must follow just to file cases in court, let alone defend them. More times than not, injured persons feel more comfortable paying an attorney to defend their interests rather than getting a much smaller settlement without counsel.
Why hire Rinehardt Injury Attorneys?
At Rinehardt Injury Attorneys, our personal injury lawyers have decades of experience winning cases and securing settlements on behalf of our clients. We know the tricks that insurance adjusters use to try to get you to settle your claim for less than it is worth, and we will not accept that.
We pay close attention to every case we take on. We limit the number of cases we accept so that we can give your case the personal attention it deserves. We also pride ourselves in securing positive outcomes as quickly as possible. We are a modern firm that uses the latest technologies to expedite the outcome of your case. The quicker we reach the end of your case, the sooner you can refocus on your life.
How do Pedestrian Accident Claims Work?
Because laws can often change and confuse people, attorneys can take the guesswork out of claims and apply all parts of Ohio law to your claim. Firms have outside contacts that many civilians lack; this comes from years of trying cases and building rapport within their communities. Most of the work you don't see happens behind the scenes, whether it's hiring professional accident analysis, having staff gather additional information for your case, or meeting with other parties to help your claim to get processed much quicker.
What Should I do after a Pedestrian Accident?
If you've been injured, there are steps to take to make sure the accident scene is preserved, and the negligent party is held accountable:
First, remain where you are. Since pedestrians don't have vehicles to remove themselves from, they become the accident scene and thus must be preserved.
Next, phone law enforcement. Immediately. This is especially important if you want to hold the party who hit you accountable later on.
Once law enforcement arrives, describe what happened. Point out any witnesses to your accident, and also whether you were lawfully crossing the street, within the crosswalk or outside it, and so on.
Receive medical care even if not needed. This could save your life, and is procedurally necessary to help your claim.
Phone a pedestrian accident lawyer. Discuss your incident, what steps have been taken leading up to your call with them, and what you'd like to do. An attorney may immediately dispatch someone to take photos and collect additional evidence to preserve your case.
Continue to receive care after you've called them, and save all receipts and hospital bills. Your attorney will get medical records via court order, so don't worry about those. If you needed pain relief sold at Walmart, get that receipt. Massage therapy to help ease the pain? Keep that, too. Anything that you spend toward making yourself whole is an expense your attorney needs to know about.
You should also obtain motorist insurance information, any commercial license information (if applicable) and anything else to effectively litigate your claim. If the driver took off, make sure to identify the vehicle if possible; criminal charges will accompany civil liability once the vehicle has been located.

FAQs about Pedestrian Accidents
Here are frequently asked questions about pedestrian accidents. Note these are presented for informational purposes only and do not imply an attorney-client relationship.
Pedestrian Accidents Attorneys In Ohio
Rinehardt Injury Attorneys is the answer to your personal injury. Our team of attorneys and case managers have represented clients in in Columbus and throughout central and north central Ohio for years. We treat every new client as if they were part of our family by providing clear communication, building a strong relationship, and using our experience to provide legal guidance that's in their best interests. We offer free consultations with no obligation, so don't hesitate to contact our team about your legal matter.