Ohio Personal Injury Attorneys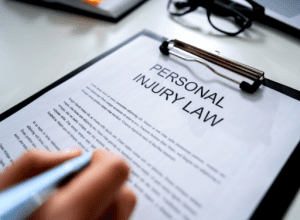 Have you or a loved one been injured due to someone else's wrongful acts or negligence? If so, you're probably wondering how you will recover while also holding the person or company that caused harm accountable. At Rinehardt, we will handle your personal injury case while you focus on taking care of yourself or loved one. Contact one of our experienced personal injury lawyers in both Columbus and Mansfield, Ohio to discuss your rights and legal options. You could be owed significant compensation, and could be eligible to recover damages for your medical bills, lost wages, and other losses.
The attorneys at Rinehardt will help you assert your legal rights and secure the maximum compensation you're owed. The legal process can be challenging, but you don't have to face it alone – we'll hold the responsible party liable for their actions, so that you can move forward with your life.
Our award-winning personal injury lawyers are ready to start helping you today. Call our Columbus office at 614-686-2020 or call our Mansfield office at 419-529-2020 for a free consultation.
Personal Injury Cases We Handle
Whatever type of accident caused your injury, our attorneys have the experience needed to manage your case. Personal injury law covers a wide variety of claims, including the following:
Motor Vehicle Accidents: Many people who get into car accidents are severely injured or die. When a person gets into a car accident, it can be very difficult for them to pay for medical bills, as well as having to take time off from work. Many people also suffer from severe mental stress, as they worry about how they can pay off the financial debt they have incurred.
We represent people involved in any kind of auto accident case in Columbus or Mansfield. This may include:
Accidents in the Workplace: Although state workers' compensation law covers costs for medical bills and lost wages when an employee is injured at work, there may be additional compensation available to you if a third party is involved. One of our experienced workplace accident attorneys who understands the Ohio workers' compensation laws can help you with this.
Typical workplace accidents and injuries include situations such as:
Premises Liability: Unfortunately, property owners do not always properly maintain their premises, or they fail to provide adequate warning about potential risks to others. We can hold property owners responsible for unsafe conditions that could harm the public:
Medical Malpractice: When a healthcare professional or facility is responsible for a patient's injury due to factors such as misdiagnosis, mistreatment, or negligence, it may be considered medical malpractice.
Examples of medical negligence that may be cause for a lawsuit include:
Failure to recognize symptoms
Not ordering appropriate tests
Misdiagnosis or no diagnosis
Surgery errors or unnecessary surgery
Premature release from the hospital
Issues with laboratory results
Incorrect medication or dosage
Inadequate follow-up or aftercare
Nursing Home Neglect: Sadly, substandard care in nursing homes that are understaffed or poorly operated is common. These areas are where caretakers often fail to provide the right care:
Hygiene neglect: Failure to help residents with bathing, dental care, or laundry.
Medical neglect: Improper attention given to residents' medical care plan.
Basic needs not met: Not maintaining a clean, safe environment or failing to provide enough food and water.
Disregard for social or emotional needs: Ignoring residents, leaving them alone too much, or subjecting them to unkind treatment are also forms of neglect.
Elder Abuse: This can include physical, emotional or sexual abuse
You can trust the team at Rinehardt to handle your case sensitively, and make sure all responsible parties are held accountable.
Defective Products: Defective products are often sold to the public when companies fail to prioritize safety or proper monitoring during the manufacturing process. When these defective products cause injuries, the consumer often has the right to recover damages from the responsible parties. One of our experienced product liability attorneys can take on these companies and effectively represent you.
Wrongful Death: The tragedy of losing a loved one unnecessarily because of someone else's reckless or negligent behavior is devastating. If you have experienced this, you need compassionate advice from a skilled wrongful death lawyer who can pursue legal action. Although we know nothing can bring your loved one back, your family may still need help in the following ways:
Medical care costs incurred before death
Expenses for burial and funeral
Emotional suffering
Loss of financial support
There are many more personal injury cases we can handle that don't fall into these categories, like the high-profile Camp Lejeune water contamination lawsuits, or can fall into multiple, such as child injuries. No matter how you or a loved one were injured, our attorneys will review your accident or incident with you in detail at our free consultation to provide you with a clear assessment of your case and to answer any questions that you have.
Frequently Asked Questions
If you are or someone you are close to has been injured in an accident, you may not be aware of all the Ohio laws that govern personal injury cases. Rinehardt Injury Attorneys is a well respected personal injury law firm with years of experience in accident injury cases. Every case has a unique set of circumstances, so we encourage you to let us assist you by calling our office at 614-686-2020. However, here are a few common questions that victims of a personal injury have:
Do I need to go to court?
Although most cases are settled before court is necessary, the possibility of going to court is always possible. The trial attorneys at Rinehardt are highly experienced and well-equipped to handle direct negotiation or courtroom trials.
How do I know if I have a case?
If you're able to prove that someone else was responsible for your injuries, you should be able to make a claim, but it's important to get it checked out by a lawyer. We provide a free consultation to help you determine what your case may be worth.
How long do I have to file a personal injury claim?
The two-year time limit for filing a personal injury claim in Ohio is known as the statute of limitations, and it is listed in Ohio Rev. Code Ann. section 2305.10(A). You should hire a lawyer immediately after your accident, as they will then be able to secure the best evidence in your support.
Contact Rinehardt Injury Attorneys for Results
We want to make sure you're compensated fairly for your injuries, in a process that transparent and minimizes your stress. Contact us today for the effective and compassionate representation our Columbus personal injury lawyers provide to all of our clients.
Your initial consultation is free, and you won't pay anything until we recover compensation for you. We are ready to take your call today at 614-686-2020.