Ohio Wrongful Death Lawyer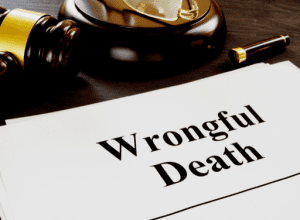 When the misconduct or negligence of an individual causes someone to lose their life, families are often traumatized by the sudden and unexpected death. Questions arise as to how spouses with young children will survive, how final expenses will be paid, and what legal action can be taken. A flood of emotions consumes families who are struggling to pick up the pieces and move on.
The Rinehardt Injury Attorneys represents families who lost someone important due to an untimely death. When you need an experienced injury lawyer in Columbus, our firm will vigorously fight for your rights and seek compensation to help your family find closure and secure financial stability after the death of an important family member.
Immediate assistance is available for those who wish to discuss their case with a Columbus wrongful death attorney from our firm. Call (419) 529-2020 today, and we'll schedule your free case review.
What Is A Wrongful Death Claim?
Claims of wrongful death arise when an individual who would normally have a personal injury claim succumbs to injuries they received in an accident. These torts are filed by particular surviving family members or those who control an estate.
A few examples of wrongful death claims include:
An intentional action. Homicides are an intentional action that leads to death. While criminal charges will be filed, these will not help the victim's family. A separate civil case must be filed to win financial compensation. Because the burden of proof is higher in criminal court than in civil court, the defendant may not be found guilty of the crime but still be found liable for the wrongful death.
Medical malpractice. Failure to diagnose, misdiagnoses, reckless surgical errors and similar can be litigated in Ohio after an individual has passed away.
Automobile accidents. One of the most common causes of wrongful death includes injuries sustained in automobile accidents. These are normally brought against the insurer, although individual liability may exist if the amount of coverage is insufficient to handle paying a wrongful death claim.
Premises liability. Property owners have a responsibility to keep visitors to their property safe. When they fail to do so and people are injured or killed in slip and fall accidents, dog attacks, assaults, or other incidents, the owner may be liable.
If you're unsure whether your loved one's death qualifies as wrongful under Ohio law, contact the Rinehardt Injury Attorneys to schedule a free case review.
Why You Should Hire a Wrongful Death Lawyer
If you're unsure whether a wrongful death attorney would be worth your time to hire, here are four reasons others in your situation have chosen an attorney to represent them in court:
Financial constraints. Given the amount of work that goes into investigating, proving, settling, and taking cases to trial, the costs may outweigh the benefits for those who proceed without an attorney. Wrongful death attorneys usually work on a contingency fee basis, which means your attorney will front all the costs of your claim, and only collect a portion of your final compensation after you win.
Timelines. Court filings must be filed timely, prepared properly, and served to those who are listed as defendants. If one procedure is incorrect, or one filing is late, the case could be tossed out. Attorneys have filed cases before, and understand the proper procedure along with how to properly serve others.
Peace of mind. Jumping from a funeral into a court case may be more stress than families are prepared to endure. With an attorney handling your wrongful death case, peace of mind can be achieved by families who need time to grieve.
Procedure. Those inexperienced in civil cases may run to the at-fault individual or their attorney and demand money; that approach almost never works. The attorney for the family will file their complaint, follow that with a pre-litigation demand letter, and head to trial if settling isn't feasible. Most attorneys won't listen until the complaint is filed.
Families interested in taking their cases to court alone may find the risks outweigh the rewards. For those who just lost someone, that's often a risk they're not willing to take.
Why Choose the Rinehardt Injury Attorneys?
At the Rinehardt Injury Attorneys, our clients are our number one priority. That's why we never apply a one-size-fits-all approach to our cases. When you come to us, we will thoroughly examine all the unique aspects of your case. We will be in constant communication with you throughout the process to ensure you always know what's going on and feel comfortable with the way things are progressing. Our attention to detail and compassion for our clients has allowed us to be extraordinarily successful throughout our long career, winning millions of dollars and numerous awards. After a wrongful death in Columbus, rely on the Rinehardt Injury Attorneys for the best representation.
How to Prove a Claim of Wrongful Death in Columbus
To establish a cause of action in wrongful death claims, plaintiffs must show:
Evidence of that a duty of care existed, was breached, and that breach directly caused your loved one's death;
Surviving family members, including children, and/or the estate suffered calculable losses; and
A personal representative has been appointed to bring action against the responsible party.
The first element requires extensive research, including accident reconstruction, photo or video evidence, witnesses to the action, an accurate police report, and medical reports. A well-prepared legal team can gather most of this evidence for clients who are unsure how to proceed.
Financial losses are proven by the wages the decedent brought home, funeral expenses, bills that the deceased owed and would have paid, future earnings the decedent will be deprived of, and others. Noneconomic losses, such as pain and suffering, require proof that families have been emotionally damaged or are suffering needlessly due to their loss.
As our firm often collects more than enough evidence to back your loved one's wrongful death, many defendants are willing to discuss settlement prior to trial, although some cases are decided by juries.
Wrongful Death Compensation
If taken to trial, juries in Ohio are allowed to award damages proportionate to losses and financial injuries sustained. Juries may also provide separate money awards for burial expenses and pain and suffering if enough evidence is presented.
Broken down, the main award estates or families would be entitled to would derive from:
Loss of services provided by the loved one;
Financial support which the surviving family would have benefitted from, including wages and potential inheritance;
Medical insurance which the loved one provided their family;
Emotional anguish suffered due to loss of companionship or consortium;
Final expenses associated with funeral costs, paying final bills, etc.;
Personal property damaged or destroyed during the accident that caused death; and
Any associated expenses incurred if the individual survived their accident but then later died from those injuries (requires survival action).
Wrongful death settlement amounts in Ohio will vary, with no case having identical circumstances or losses.

FAQs about Wrongful Death
Here are answers to your wrongful death questions. Have additional concerns not addressed below? Call us at (419) 529-2020 to schedule your confidential consultation free of charge.
Families who wish to file wrongful death action must appoint a personal representative of the deceased person's estate. That person will be the point of contact for the lawyer who handles the lawsuit and will be in charge of disbursing funds for the estate and its heirs.
Accidents that lead to death are undoubtedly tragic, even if your loved one had some participation in their accident. According to Ohio law, you can still recover monetary damages provided your loved one's death was 50% their fault or less. At 51%, you risk losing your right to recover anything.
Action must be filed in court within two years from when the decedent passed away. Ohio has a "discovery rule," meaning plaintiffs might have an opportunity to bring action when they discover negligence caused their loved one's death, even if that's beyond the two-year statute. Medical malpractice that led to wrongful death will have a different statute of limitations; ask your lawyer if this applies.
Ohio recognizes both wrongful deaths and survival actions. While wrongful death claims aim to compensate families for their losses after their loved one died, survival action aims to provide compensation to families for the pain and suffering the decedent endured prior to their death.
In a survival action, the estate can bring action to not only provide money for lost wages and emotional suffering, but may fight for punitive damages suffered by the estate due to the loved one's passing.
How the Rinehardt Injury Attorneys Stands Up for Families of Victims
Nothing can bring back the loss of your loved one. The pain, suffering, and financial losses will seem insurmountable until it's time to hold the negligent party accountable for their actions. Our firm will step in and help prove the at-fault party was responsible for your loved one's death, and will work hard to recover every penny you deserve.
If you anticipate bringing a wrongful death action against an individual or entity, but have concerns or questions you'd like addressed, we urge you to contact the Rinehardt Injury Attorneys at (419) 529-2020 today. Consultations are free and our legal services will cost nothing until we've settled your case.
Wrongful Death Lawyers In Columbus, Ohio
Rinehardt Injury Attorneys is the answer to your personal injury. Our team of attorneys and case managers have represented clients in in Columbus and throughout central and north central Ohio for years. We treat every new client as if they were part of our family by providing clear communication, building a strong relationship, and using our experience to provide legal guidance that's in their best interests. We offer free consultations with no obligation, so don't hesitate to contact our team about your legal matter.