Rules of the Road: Bicycle Laws in Ohio
06-30-20
Ohio cyclists are responsible to follow the same rules and regulations as motor vehicles, which includes yielding to pedestrians, using lights between sunset and sunrise, and obeying all traffic signs and signals (ORC 4511.55). However, there are additional rules that apply to cyclists when riding on public roadways:
Cyclists must ride as close to the curb as possible exercising reasonable care when passing a standing vehicle or one proceeding in the same direction.
Cyclists shall not ride more than two abreast in a single lane, except on paths or parts of roadways set aside for their exclusive use.
The rule requiring cyclists to ride at the edge of the roadway does not apply when it is unreasonable or unsafe to do so. Some examples of when a rider may have to move away from the edge of the roadway include when necessary:
To avoid fixed or moving objects
To avoid parked or moving vehicles
To avoid surface hazards
If the lane is too narrow for the bicycle and an overtaking vehicle to travel safely side by side within the same lane.
Mountain Bikes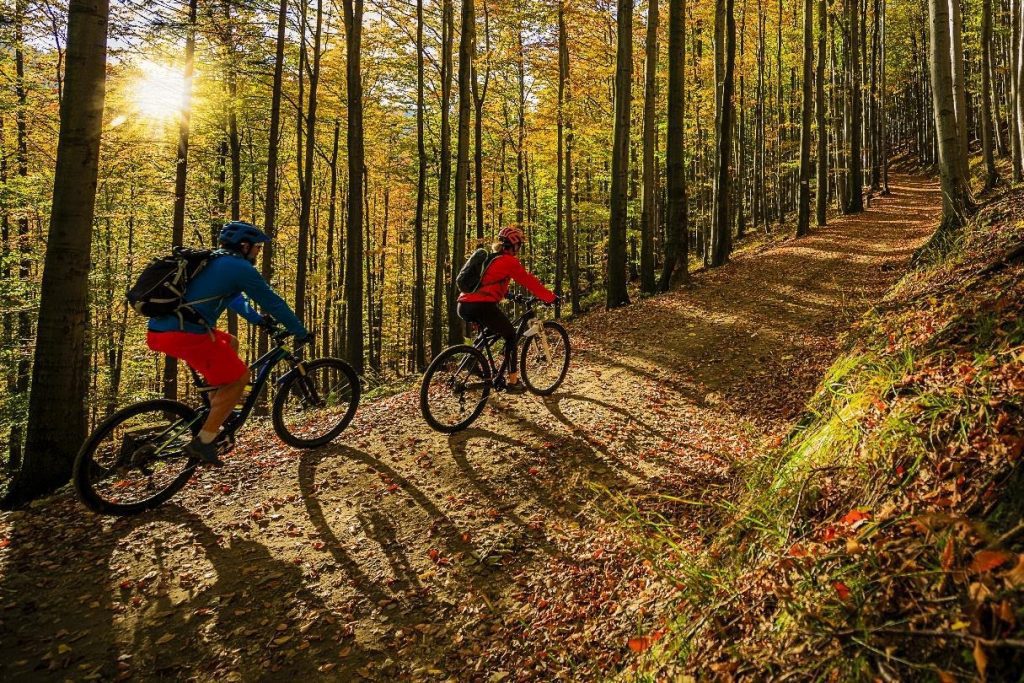 If you are riding trails instead of public roadways, there are no specific laws that apply, but there are trail-specific guidelines to follow:
Plan ahead –carry necessary supplies for changes in the weather, and know your equipment, your ability, and the area in which you will be riding.
Yield appropriately – bicyclists should yield to other non-motorized trail users. Bicyclists traveling downhill should always yield to those heading uphill unless the trail is clearly signed for one-way or downhill-only traffic.
Respect trail and road closures – do not trespass on private land, and obtain permits as required.
Leave no trace – stay on existing trails and do not create new ones. Don't cut switchbacks, and do not leave any trash of any kind on the trail.
Control your bicycle – obey speed regulations and recommendations and ride within your limits.
Respect wildlife – give animals enough room and time to adjust to you and avoid sudden movements and loud noises.
E-bikes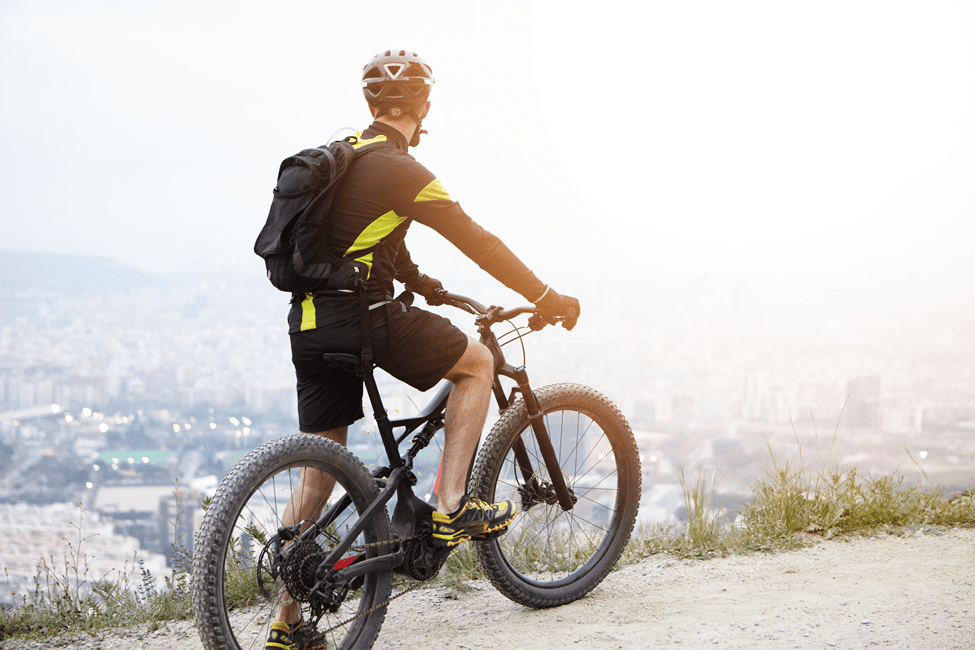 Electric bicycles also known as e-bikes are becoming more and more popular in Ohio. E-bikes attract bicyclists of all ages and abilities because they have a rechargeable motor to assist riders on hills or other obstacles allowing riders to conserve energy, extend range, and equalize riders of different abilities.
E-bikes were previously classified similarly to motor vehicles in Ohio, preventing riders from using them on shared use paths or bicycle facilities that prohibit motorized vehicles. However, Ohio passed a new e-bike law House Bill 250 that went into effect on March 8, 2019. E-bikes are now regulated like non-electric bicycles rather than vehicles.
Ohio's new law defines three classes of e-bikes according to the type of electric assistance and top speed. All classes are limited to an electric motor of 750 watts or less. The new law also defines where different e-bike classes may be used. Like bicycles, all classes can operate on any road except for a freeway. E-bikes cannot be used on natural surface trails intended for mountain biking, hiking or equestrian use. Additionally, local jurisdictions can further restrict or permit the e-bikes on any trails under their authority so it is important to check the local laws and codes.
Keep in mind that e-bike users are required to follow all traffic and equipment laws that apply to bicycles, like using lights and reflectors.
Class one (pedal assist) and class two (throttle assist) e-bikes travel up to 20 mph and are permitted on bicycle only and shared use paths. Only class three e-bikes, which are pedal assist bikes that go up to 28 mph, have special rules including:
They are prohibited from bicycle only and shared use paths
They require a speedometer
Riders must be 16 or older
Helmets are required
Speedometer is required
Bicycle Accidents
In most cases, it is illegal for cyclists to ride on the sidewalk and are expected to ride with traffic, not against it – so when driving a motor vehicle, please be courteous, share the road, and obey all traffic laws, signs, and signals. When passing a bicyclist, allow at least three feet of space between your car and the cyclist.
With so many motor vehicles and bicycles sharing the road, these laws strive to help bicyclists avoid motor vehicle collisions. Although Ohio may not currently have a law that requires bicyclists to wear helmets, it is the number one piece of safety advice we can provide to cyclists – please always wear a helmet, ride safely, and follow all Ohio rules and regulations.
If you have been injured in a bicycle accident, we suggest you take the following steps:
Take photos of your bicycle, the vehicle, location of accident, and most importantly, any injuries you have sustained
Get the contact information of the motor vehicle driver, including name, phone number, and auto insurance
Call the police
Seek medical attention as needed
Call us at 419-LAW-2020 for a free consultation to discuss how we can help you recover compensation for your injuries
If you find yourself a victim of a bicycle accident, call a bicycle accident attorney to get the compensation and justice that you deserve. Here at Rinehardt Injury Attorneys, we have a team of experienced bike accident lawyers ready to help you! Give as a call or schedule a free consultation with one of our expert personal injury attorneys in Ohio today!