Ohio's Distracted Driving Laws: Cell Phone Usage While Driving
03-06-23
The vast majority of people in today's world not only own a smartphone but highly depend on it for countless reasons. From checking social media to texting or making calls to family and friends, our phones are quite frankly an indispensable tool to modern life.
Truth be told, smartphones go beyond practical uses and also act as a portal to an alternate reality personalized to the individual user. However, it can be catastrophic if someone decides to drive while immersed in this alternate reality because, according to associate professor Nicola Johnson, when using a smartphone, "people are physically present but not [fully] aware and engaged in their surroundings."
Using a cell phone while driving is a specific type of distracted driving that's dangerous because it involves three major points of distraction. Since this form of communication involves taking your eyes off the road, it's therefore visually distracting. It's also manually distracting because you have to take your hand off the wheel as well as mentally distracting because you're not 100% focused on where you're headed.
Distracted Driving in Ohio Explained
It's no wonder that cell phones are the most used device in the country given how much they have altered the way we live our lives. However, using one while driving is dangerous and has turned into a significant issue in Ohio. In fact, more than 13,000 drivers in Ohio were involved in distracted-driving crashes in 2015 that resulted in 43 deaths and nearly 7,000 injuries—41% of those crashes involved cell phone use.
The National Safety Council has even stated that there is no safe way to use a cell phone and drive at the same time. Even on a hands-free device, there's still a chance that a driver may miss up to half of what's on the road due to being engaged in a phone conversation.
Driving distracted definition – simply put, distracted driving is considered to be anything that causes you to remove your eyes from the road. Not only does it put you in danger, it puts everyone around you at risk and also increases the chances of a car accident.
Examples of Distractions While Driving:
There are 4 main types of distract
ions experienced by drivers while behind the wheel. Using a cell phone while driving is a type of distracted driving that's especially dangerous because it's a combination of three of these, but each alone can lead to a dangerous car accident.
Visual distractions can range from turning to talk to another passenger in your seat to reading an interesting billboard. In other words, whenever your eyes are not on the road in front of you, you're visually distracted.
Manual Distractions happen when your hands are occupying something other than the steering wheel. Some common manual distractions include reaching for dropped sunglasses, tuning the radio, or even eating or drinking.
Auditory Distractions can involve turning up the volume and singing along to the radio—one of life's simple pleasures. However, if the music is turned up too much, you can become auditorily distracted. Try making a rule of silence on your drives if you find it difficult to focus while other people are talking; a monotonous drive is preferable to one that results in an accident.
Cognitive Distractions can be some of the most dangerous because they're usually overlooked. Cognitive distractions happen any time your attention has drifted from the task of driving. These distractions can include drowsy driving, highway hypnosis, or plain old stress.
Injuries Caused by Distracted Driving
Ohio driving laws are set in place because a distracted driving accident can cause any number of injury types, from broken bones to spinal cord and traumatic brain injuries with life-long repercussions.
Regardless of the age of the drivers or the level of injury involved, your best course of action after seeing a doctor is to consult with an attorney to assess your options.
Quick Overview of New Ohio Texting and Driving Law
According to Ohio's cell phone laws, no individual can use an electronic device to write, send, or read a text while driving a motor vehicle, trackless trolley, or streetcar on any street, highway, or other property that can access vehicular traffic.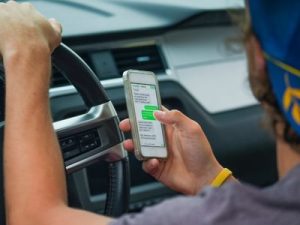 The law also outlines a few exceptions to these rules:
A driver may still use their device in certain circumstances, such as when their vehicle is parked or stopped at a red light. Drivers are also allowed to swipe their phones to answer a call and to hold their phones to their ears during phone conversations. Emergency calls are also granted in all circumstances.
How Will The Ohio New Laws Change Our Roads?
Since 2017, there have been over 70,000 distracted driving crashes, 39% of which have been with drivers between the ages of 15 and 24. On top of that, law enforcement has written nearly 40,000 tickets for distracted driving violations.
The new Ohio cell phone law establishes a $150 fine or a distracted driving course for violators on the first offense. Then a $250 fine for the second offense and $500 for the third offense within two years.
Other states that have done this have seen a significant decrease in distracted driving. When first signing the bill, Ohio Governor Mike DeWine even stated,
"Signing this bill today is a great honor because this legislation will, without a doubt, prevent crashes and save lives. Right now, too many people are willing to risk their lives while behind the wheel to get a look at their phones. My hope is that this legislation will prompt a cultural shift around distracted driving that normalizes the fact that distracted driving is dangerous, irresponsible, and just as deadly as driving drunk."
Distracted Driving Crash? Contact Rinehardt Injury Attorneys
No one wants to witness their loved one hurt in any type of crash, especially one in which distracted driving could have been prevented. If you or someone you know have been injured in a car accident, Rinehardt
InjuryAttorneys may be able to help. Our experienced distracted driving accident attorneys have assisted crash victims for many years.
If someone else's negligence caused your injuries or the wrongful death of a loved one, you shouldn't have to bear the experience alone. Contact us today for a free consultation.
Frequently Asked Questions
What is a primary offense?
A primary offense is when a law enforcement officer can stop a vehicle for the sole purpose of presenting a citation in the absence of evidence of another offense.
Is Ohio a hands free state?
The new distracted driving Ohio law is a primary offense that gives police the right to pull someone over just for holding a cell phone. However, offenders will get off with warnings for the law's first six months while the state lets everyone know about the Ohio hands free law change.
Is texting and driving illegal in Ohio?
Yes. According to Ohio's cell phone laws, no individual can use an electronic device to write, send, or read a text while driving a motor vehicle, trackless trolley, or streetcar on any street, highway, or other property that can access vehicular traffic.
Is texting and driving a primary offense in Ohio?
Yes. According to Senate Bill 288, the use of cell phones and other electronic devices while driving is considered a primary offense for every driver and gives law enforcement permission to instantly pull over a distracted driver upon seeing a violation.