What are the Top 5 Causes of Car Accidents?
11-28-21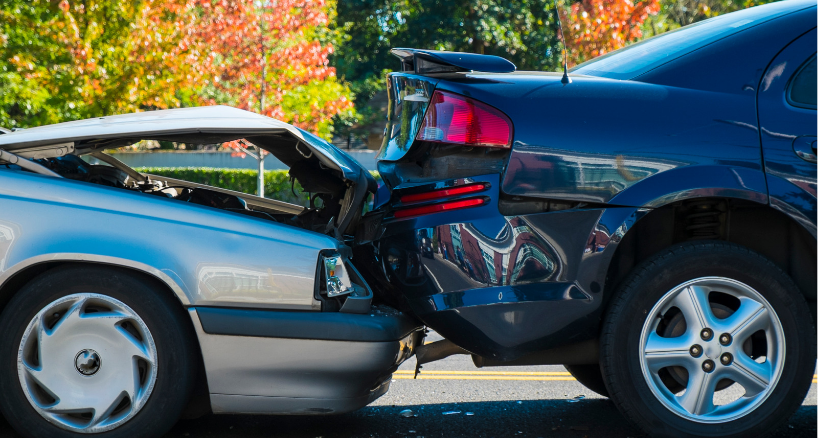 According to the National Highway Traffic Safety Administration (NHTSA)'s estimates, around 36,680 people died in 2020 due to motor vehicle traffic crashes—the largest number of deaths since 2007. This rise is despite the smaller number of cars on the road last year, while we socially-distanced, stayed and worked from home, and generally got out less during the pandemic.
What's caused this spike in fatal car accidents in the last year? And why is 2021 projected to be even worse? There are five main reasons that people get into car crashes. If you can, avoid the following so you don't become a statistic!
1. Distracted Driving
Research from the American Automobile Association's Traffic Safety Division has found that between a quarter and a half of all motor vehicle accidents are caused by distracted driving. But what is distracted driving?
Distracted driving is any activity that moves your attention from traffic on the road ahead to something else. These activities include the following:
Talking—and especially texting—on cell phones

Rubbernecking

Driver fatigue

Looking at scenery on the side of the road

Engaging with passengers or children

Adjusting the radio, CD player, or other aspect of the car's infotainment system

Reading books, maps newspapers or other documents

Eating

Self-grooming
2. Drunk Driving
The NHTSA reports that about 32% of all traffic fatalities in America are caused by drunk drivers. Remember—though the legal limit for blood-alcohol level in Ohio is 0.08, it's safer to establish a sober, designated driver for the night. The only way to prevent being at-fault for a drunk driver accident is to not drink and drive.
3. Speeding
Speed is one of the deadliest factors in any car accident: as you increase your speed, you decrease the time you have to react and avoid a crash, you increase your risk of crashing, and you increase the severity of any crash you're in. In fact, drivers' increased speed due to emptier roads was the main driver of the jump in fatal crashes in 2020. Common scenarios that can lead to a speeding accident include:
Sharp turns on curves
Ignoring speed limit signs
Drivers losing control of their vehicle based on the speed at which they were driving, which can result in collision with another vehicle
Speeding on major roadways and rear-ending another vehicle as a result
When driving, make sure to follow the posted speed limits and observe common sense regarding your speed. Never drive faster than is safe for current weather conditions—slow down for rain, snow, and fog. Reducing your speed is the easiest, and one of the most effective, things you can do to make the road safer for everyone.
4. Aggressive Driving
Aggressive driving is defined as "driving in a manner that presents a threat to other drivers, passengers, pedestrians, and/or bicyclists." Aggressive driving includes a number of behaviors that you've likely seen while driving, and possibly have done yourself:
Aggressive tailgating

Driving without a seatbelt, or improperly securing a child

Failure to follow traffic signals

Failure to yield

Following at an unsafe distance

Inattentive driving

Texting while driving

Unlawful or unsafe speeds

Unsafe or illegal lane changes (weaving in and out of traffic)
If you're in traffic with an aggressive driver, your best course of action is to keep your distance. Don't attempt to pass or interact with them—this can escalate the situation and possibly lead to a car wreck. If you are concerned for the safety of yourself and others (including the aggressive driver), call 911 and report the aggressive driver as soon as it's safe to do so.
5. Inclement Weather
Fog, snow, ice, hail, heavy rain, and even high winds can make driving much more difficult. Poor visibility, poor tire tread or brakes, or a poorly functioning engine and exhaust are just a few things that can become extremely unsafe due to inclement weather, increasing the likelihood of an accident. However, there are some actions you can take to decrease the likelihood of a car wreck in bad weather.
Make sure to adhere to the speed limit at all times, and lower your speed if conditions worsen. By slowing down, you provide yourself more time to react to conditions, which is needed in heavy weather. There's also no shame in pulling over or stopping at a rest stop if conditions get extremely bad. It's better to be late to your destination than to be in a deadly accident.
What to Do After a Car Accident in Ohio
Though some accidents aren't completely avoidable, by following the 5 above tips you can make them more rare. If you are involved in an Ohio car accident, however, you'll need one of our reliable and experienced Columbus car accident lawyers to argue your case in court. The attorneys at Rinehardt Injury Attorneys have years of experience litigating complex injury cases in our state, and are here to help.
If you're the victim of a car crash, don't hesitate to contact our car accident attorneys. Call the law offices of Rinehardt Injury Attorneys today.